My unfortunate dealings with GFORCE BRAKES, aka Elite Group Canada, aka Magnum Brakes.
Back in early June I saw one of those too good to be true deals on eBay for a front and rear rotors for my Mazda RX8. So, for $150 + $52 shipping and handling I bought Front & Rear Drilled rotors for my sports suspension RX8. I waited approximately a week for them to ship and when I didn't receive a shipping notification, I emailed the seller and was told that I had to wait for their "shipping" department to ship them and I'd receive my tracking number there.
A couple more days went by and I received my tracking # from Purolator (Canadian shipping carrier) who would route the rotors through DHL at the US/Canada border. After 7 days of watching the rotors sit at a facility in New York I contacted everyone involved (DHL said they never received an actual shipment, Purolator said it'd take up to a week to track them, and GFORCE gave me this line of garbage:
----------------------------------------
Hi,

Thanks for your purchase at GForce Brakes. We have contacted with purolator about your case. Once the trace investigation turns out to be negative, we will open a lost claim for you ASAP, Once the claim is approved, we will reship a new set of rotors to you ASAP.

We are sorry to tell you that it takes up to seven business days for purolator to finish the trace. If the item is lost, it takes another two weeks' business days for purolator to process the lost claim. Therefore, you won't receive the item in seven days.

Again we apologize for your loss. We will keep contacting purolator to follow up the case for you. Hopefully it can speed up the whole process.

Please feel free to contact us for further enquiries.

We look forward for you business in the nearer future.

Best Regards,

Shipping Department
www.gforcebrakes.com
----------------------------------------
So basically it was going to take up to 6 weeks for them to even look into it if Purolator was unsuccessful in tracking down my rotors. Well, fortunately, Purolator found them after a couple days and I received an update from DHL that they were back on track to making their way to me.
So you'd think that'd be the end of it, right? Hardly.
I receive the rotors, open up the box they're in and notice that the black heat resistant paint that I request they be coated with was already peeling away, without me even touching them. I have my own black caliper paint so my first thought was, "no big deal, I'll just manage... afterall look at all the money I saved...".
The weekend arrives and I get all my tools in order to do the deed. I jack up my front left wheel and remove my wheel, disconnect the caliper and harness from the rotor, remove the old pads, and notice my second problem. My stock rotors have the 5 lug holes plus 3 extra smaller holes. Two of the smaller holes are used with counter sunk mounting bolts and the remaining one is used to "break" the rotor from the wheel hub, but my Magnum rotors only have the 5 lugs and one additional hole. Again, I tell myself, "no big deal, I'll just manage... afterall look at all the money I saved...".
So I get the old rotor off the left side and grab one of my new ones and go to slip it onto the lugs and wheel hub and no matter how I tried, the rotor refused to fit over the lugs. I scratch my head, grab the other front rotor and have the same problem. Upon closer examination, I find the source of my problem. The lug holes on the Magnum rotors are disproportionate to the lugs coming from the wheel hub. Basically, I'm screwed!
Here are some pictures illustrating my problem. The first one is of just one of my wheel hubs: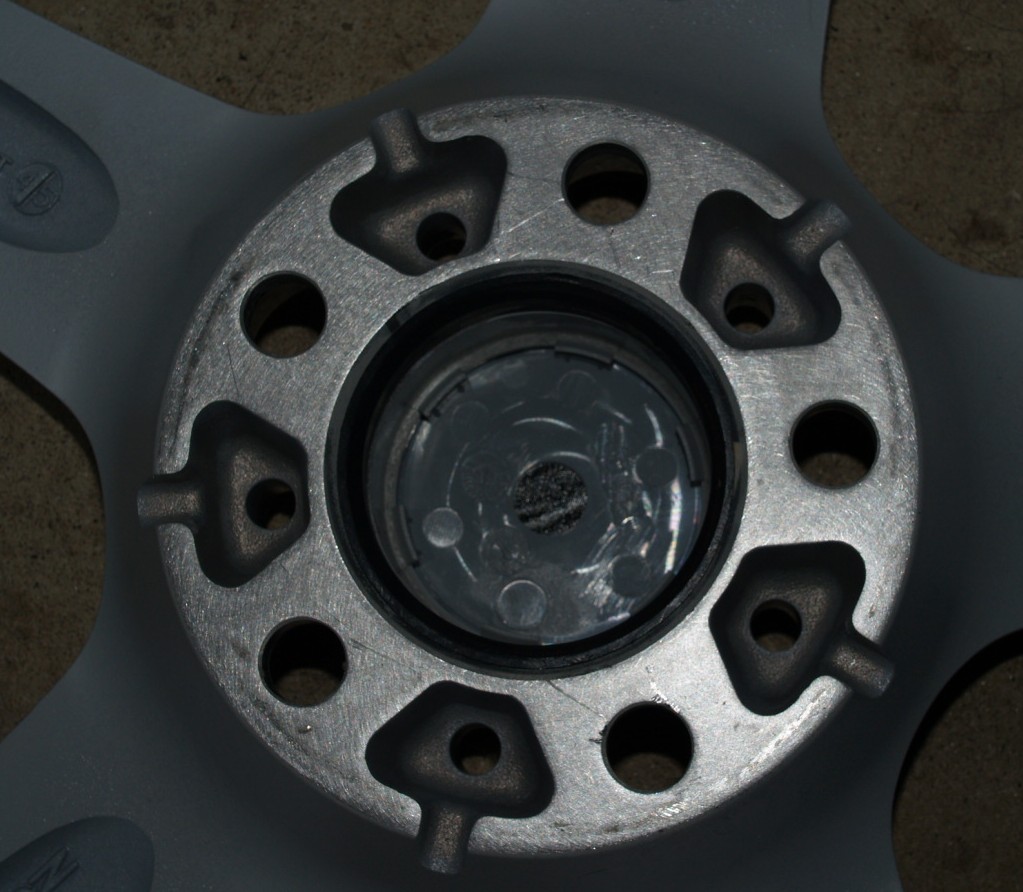 The next two show how things don't line up...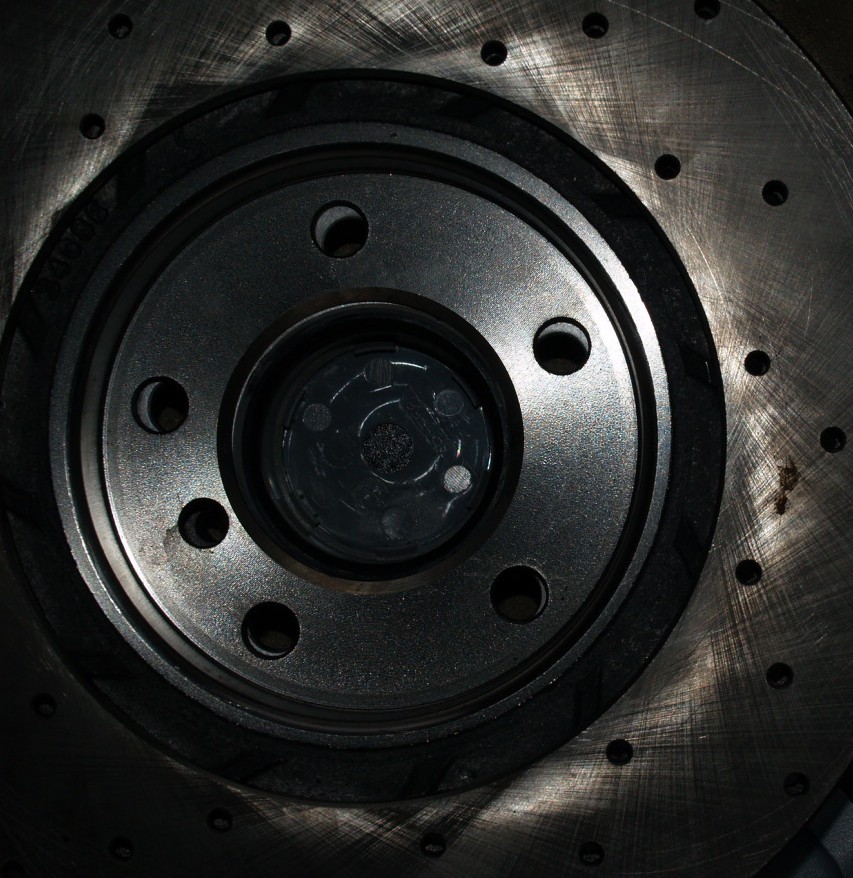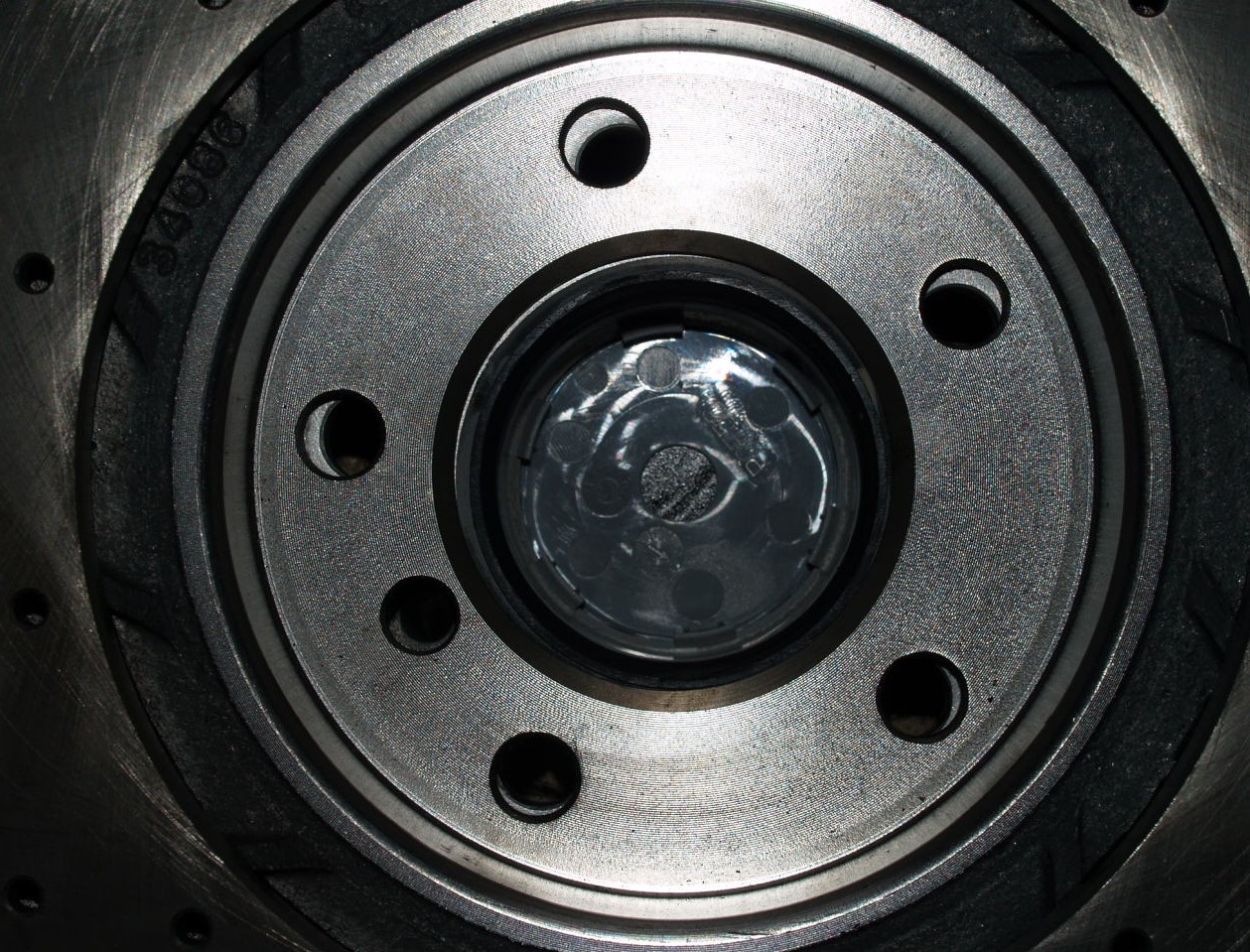 And the next shows the distance between two of the lug holes on one of my Mazda wheels: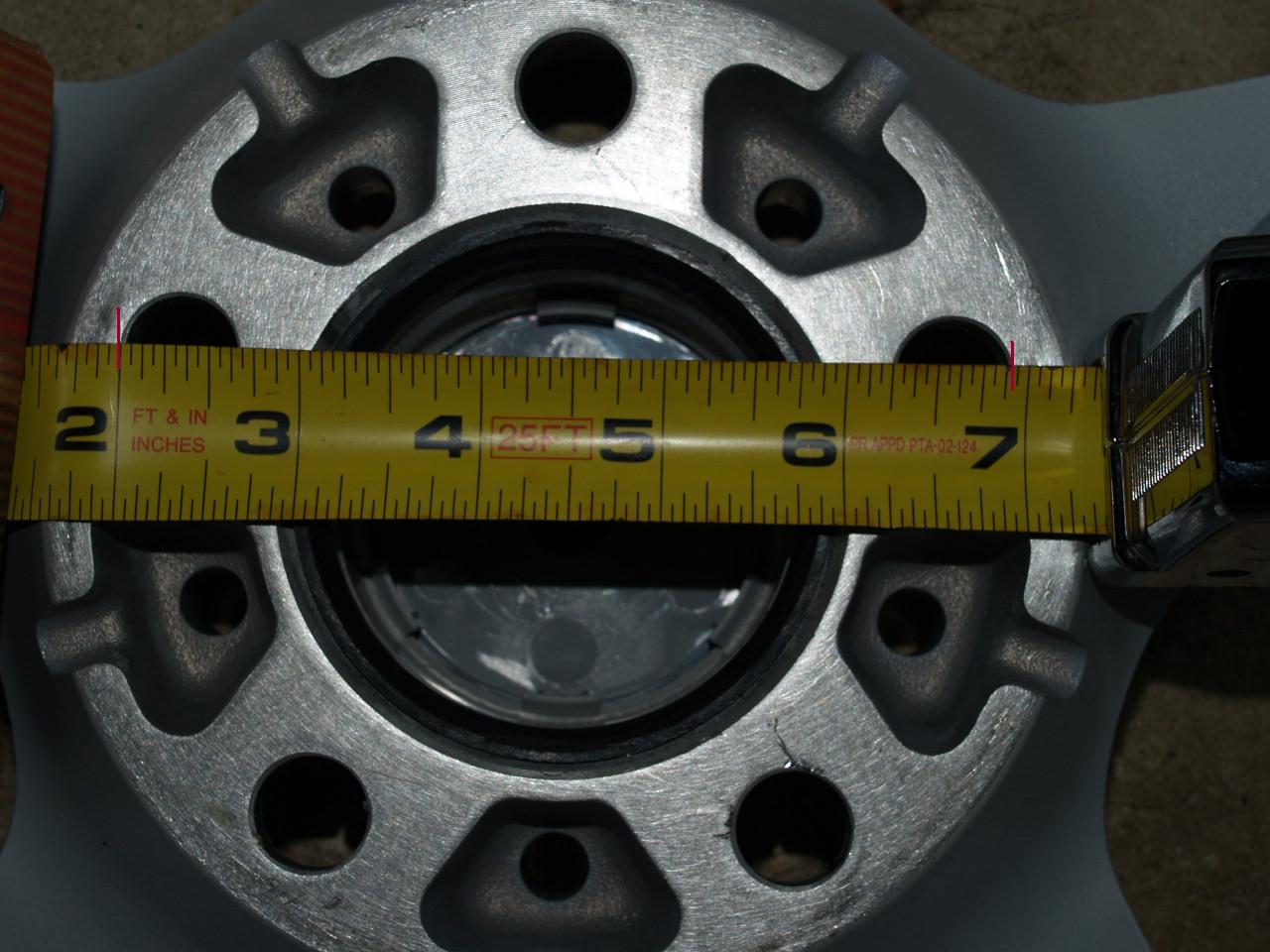 And the next the distance on one of the Magnum rotors: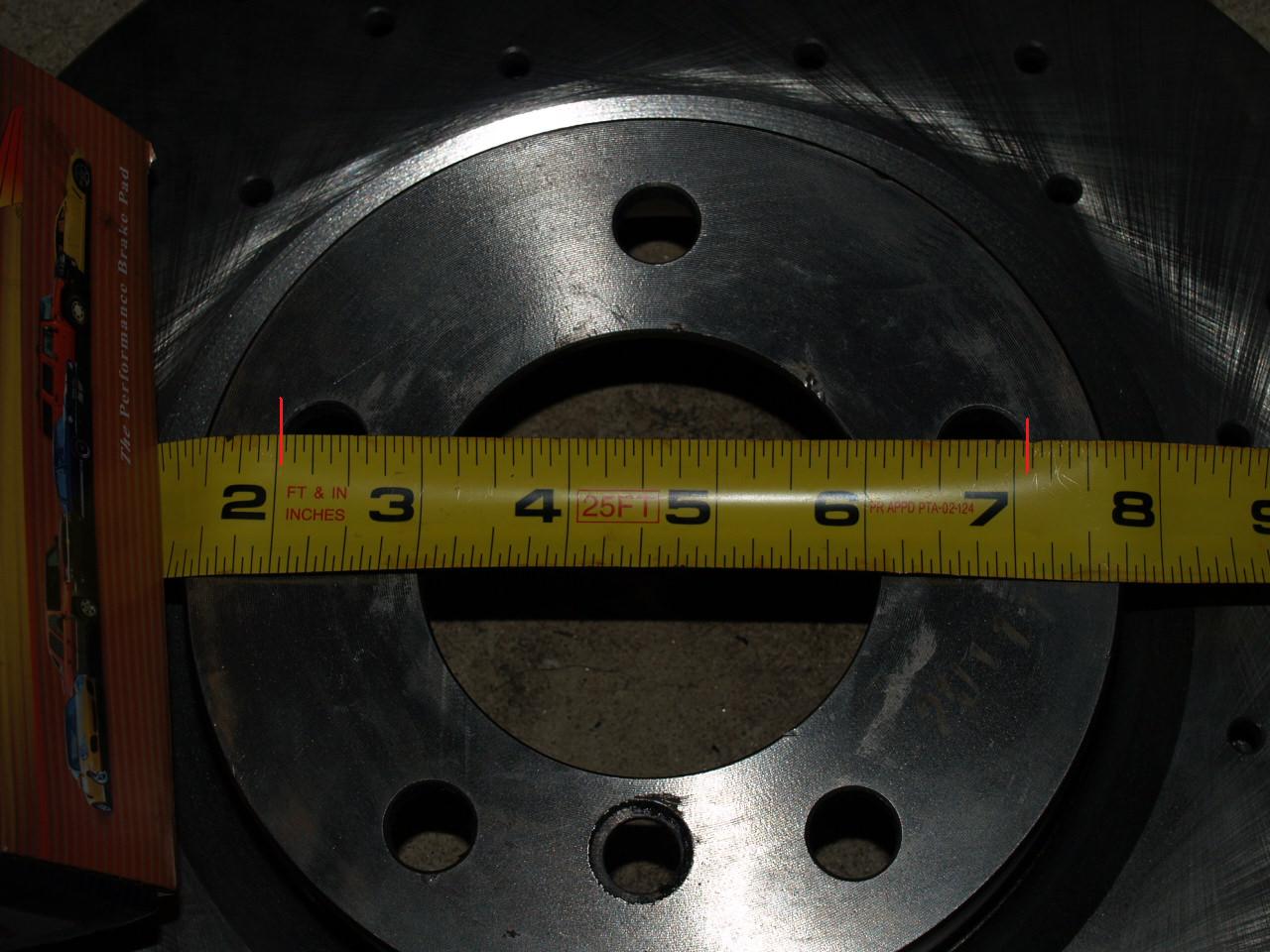 So there ya have it, a good 4mm variance. I then composed an email to GFORCE telling them that they sent me bad rotors and I get the following response:


----------------------------------------
Hi shelldude,

We double check the record of the rotors we shipped to you, they are supposed to fit your car. Actually we have sold many of this set of rotors for this car model and all of them are ok. I can support you the OEM product # of your rotors which could help you confirm that the item we shipped to you are correct.

Rear Rotor: F151-26-251A
Front Rotor: F157-33-251

Thank you
----------------------------------------


Translation: "Shell, you're an idiot and ordered the wrong rotors. You don't know anything about your car and are screwed."

I respond back telling them that they misunderstand my concern... that my problem doesn't have anything to do with actual part numbers and that there's no way under the sun that I'll ever be able to get their rotors on my car.

I get another email back from them (after calling and leaving a message) basically restating that they think I'm an idiot. So, I opened a dispute with PayPal and am waiting for them (PayPal) to resolve the matter for me. Hopefully others out there will read of my saga with GFORCE and not fall for their inferior junk.

Update 7/5/2008 - I learned that the seller is claiming, as I suspected, that I ordered the wrong parts. In our communications prior to me turning things over to PayPal, GFORCE provided me an erroneous phone #, but the valid name, of a Mazda dealership in Canada that they use for validating VIN information. They claimed that they spoke to this dealership, provided them my VIN, etc, etc. Well, here's the response I prepared for PayPal this morning:

----------------------------------------
Hello, I am the buyer in the above referenced case.

This morning I collected additional information in regards to the allegation on the part of the seller that I ordered the wrong parts.  I contacted 3 local Mazda dealerships and provided them my VIN # (##########40122092) and asked for the part # of the front brake rotors on my vehicle.

In all 3 cases they initially gave me a part # completely different than the two provided by the seller.  The current Mazda part # for my rotors is F160-33-251A.  I then asked each of them if they could cross reference that part # to the original Mazda part # and in all 3 cases they gave me the following # F157-33-251.  Please note that this is the Mazda OEM part # provided by the seller that is supposed to be compatible with the alleged rotors they sent me.
 
Here is the contact information for the local dealerships I spoke to (you'll need to ask for their Mazda Parts department if you contact them):

JOHN KENNEDY MAZDA
3199 WEST RIDGE PIKE
POTTSTOWN, PA
19464
Phone: 610-495-7100

SCOTT MAZDA
3209 LEHIGH STREET
ALLENTOWN, PA
18103
Phone: 610-791-1221

NORTH PENN MAZDA
181 BETHLEHEM PIKE
COLMAR, PA
18915
Phone: 215-822-1361

I want to make certain that PayPal understands that I ordered the correct item for my automobile. 

The seller is attempting to divert your attention from the real issue that I've outlined in prior communications (please see all of my prior comments and evidence regarding mismatched wheel and rotor hubs). 

To further prove that the seller is exhibiting deceptive trade practices, I contacted the Canadian dealership they provided as their point of contact.  The phone # the seller provided is invalid from the United States, but I was able to locate them on the web and got a valid phone #.  I spoke with Jay from the Agincourt Mazda dealership's parts department this morning and gave him my VIN #.  He responded by telling me that I gave him an "American" VIN and he only has access to "Canadian" ones.  He said that there was no way that anyone from his department could look up the necessary information for my vehicle.  He further stated that he is unaware of any Canadian based Brake distributor by the name of GFORCE brakes. 

Here is the correct contact information for Agincourt Mazda:

http://www.agincourtmazda.com/en/index.spy 1-888-826-1266 (Jay in their Parts department)
Do not hesitate to contact me should you require any further information in this matter. 

Sincerely,

Shell M. Shrader
shell@shellware.com
----------------------------------------



UPDATE 7/10/2008
PayPal has quickly ruled in my favor.... 3 business days...must be a record! I still got stuck with return shipping (going to cost me $50+ to get these oversized paperweights back to RIPMEOFFFORCE but it'll be worth it... if just for the satisfaction.

Something interesting to note, GFORCE was to provide a return shipping address and they gave PayPal an undeliverable one. PayPal is currently waiting for RIPMEOFFFORCE to get me a valid return address. There is no doubt whatsoever in my mind that RIPMEOFFFORCE did this to further delay the settlement process.

UPDATE 8/7/2008 - FINAL RESOLUTION

Dear Shell Shrader,

We have concluded our investigation into your case and have decided in your favor.

We were able to recover $202.00 USD and this amount has been credited to you. Please allow five business days for this adjustment to be posted.

If you are due any additional funds, we will make our best effort to recover the balance from the seller.


If the seller's account has insufficient funds to complete the refund owed to you, please be assured that we will take appropriate action against the seller's account, which may include limitation of the seller's account privileges.


-----------------------------------
Transaction Details
-----------------------------------


Seller's Name: GForce Brakes Auto Parts
Seller's Email: paypal@gforcebrakes.com
Seller's Transaction ID: 6DD28255K3531174F

Transaction Date: Jun 9, 2008
Transaction Amount: -$202.00 USD
Your Transaction ID: 0E475979D4207433D
Case Number: PP-505-554-672

Buyer's Transaction ID: 0E475979D4207433D



-----------------------------------
What to Do Next
-----------------------------------

No further action is required by you at this time.